The Lincoln Cent has been struck in proof format for collectors at various times within long-running the series. The earliest proofs were struck with a matte finish before a uniformly brilliant finish was adopted. Within the modern era, the coins have been struck with a cameo proof finish featuring frosted raised design elements against a mirrored background.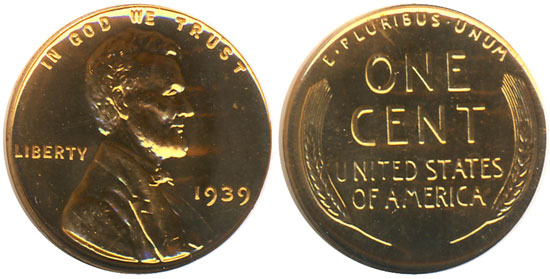 The early Matte Proof Lincoln Cents (Buy on eBay) were struck from dies with the surfaces lightly etched, creating a pebbled or grainy surface. The coins were produced on polished planchets using a medal press at slow speed to bring up the full details of the design. These matte proofs are also differentiated from regular circulation strikes by the squared edges of the rims.
From 1909 to 1916, the matte proof cents were struck in relatively small numbers. Since the coins were not as distinguishable from circulation strikes as brilliant proofs, they were initially unpopular with some collectors. During this period, the 1909 with the designer's initials "V.D.B." on the reverse and the 1916 were the lowest mintage issues. Any issue with original red coloration or multi-colored toning commands collector attention and drives a premium.
The production of Proof Lincoln Cents (Buy on eBay) resumed in 1936. For the first portion of the year, coins were struck with only partially mirrored surfaces, which came to be known as the Type I or satin proof versions. Later in the year, the production of fully brilliant or Type II versions would take place. The production of brilliant proofs would last until 1942 when production was suspended due to the Second World War.
Proof coin production would resume once again in 1950 and run through 1964, when the Mint offered packaged sets containing one example of each circulation strike coin in proof format. The Proof Sets quickly garnered collector attention and mintage levels spiraled upwards reaching a peak in 1964. During this era, proof coins displaying cameo contrast command premiums over examples with a fully brilliant finish.
From 1968 to present, Proof Lincoln Cents have been struck at the San Francisco Mint, carrying the "S" mint mark. Once again, these coins were struck for inclusion within the annually issued proof sets together with the other denominations in proof format. By the mid-1970's, nearly all coins were struck with a strong cameo contrast. Although mintages during this era are high, examples which have obtained the highest grades at PCGS or NGC can command significant premiums.
Matte Proof Lincoln Cent Mintages
| Date | Mintage |
| --- | --- |
| 1909 VDB | 1,194 |
| 1909 | 2,618 |
| 1910 | 4,118 |
| 1911 | 1,725 |
| 1912 | 2,172 |
| 1913 | 2,983 |
| 1914 | 1,365 |
| 1915 | 1,150 |
| 1916 | 1,050 |
Proof Lincoln Cent Mintages
| Date | Mintage |
| --- | --- |
| 1936 | 5,569 |
| 1937 | 9,320 |
| 1938 | 14,734 |
| 1939 | 13,520 |
| 1940 | 15,872 |
| 1941 | 21,100 |
| 1942 | 32,600 |
| 1950 | 51,386 |
| 1951 | 57,500 |
| 1952 | 81,980 |
| 1953 | 128,800 |
| 1954 | 233,300 |
| 1955 | 378,200 |
| 1956 | 669,384 |
| 1957 | 1,247,952 |
| 1958 | 875,652 |
| 1959 | 1,149,291 |
| 1960 | 1,691,602 |
| 1961 | 3,028,244 |
| 1962 | 3,218,019 |
| 1963 | 3,075,645 |
| 1964 | 3,950,762 |
| 1968-S | 3,041,506 |
| 1969-S | 2,934,631 |
| 1970-S | 2,632,810 |
| 1971-S | 3,220,733 |
| 1972-S | 3,260,996 |
| 1973-S | 2,760,339 |
| 1974-S | 2,612,568 |
Proof Lincoln Cent Mintages Continued
| Date | Mintage |
| --- | --- |
| 1975-S | 2,845,450 |
| 1976-S | 4,149,730 |
| 1977-S | 3,251,152 |
| 1978-S | 3,127,781 |
| 1979-S | 3,677,175 |
| 1980-S | 3,554,806 |
| 1981-S | 4,063,083 |
| 1982-S | 3,857,479 |
| 1983-S | 3,279,126 |
| 1984-S | 3,065,110 |
| 1985-S | 3,362,821 |
| 1986-S | 3,010,497 |
| 1987-S | 4,227,728 |
| 1988-S | 3,262,948 |
| 1989-S | 3,220,194 |
| 1990-S | 3,299,559 |
| 1991-S | 2,867,787 |
| 1992-S | 4,176,560 |
| 1993-S | 3,394,792 |
| 1994-S | 3,269,923 |
| 1995-S | 2,797,481 |
| 1996-S | 2,525,265 |
| 1997-S | 2,796,678 |
| 1998-S | 2,086,507 |
| 1999-S | 3,347,966 |
| 2000-S | 4,047,993 |
| 2001-S | 3,184,606 |
| 2002-S | 3,211,995 |
| 2003-S | 3,298,439 |
Proof Lincoln Cent Mintages Continued
| Date | Mintage |
| --- | --- |
| 2004-S | 2,965,422 |
| 2005-S | 3,344,679 |
| 2006-S | 3,054,436 |
| 2007-S | 2,577,166 |
| 2008-S | 2,169,561 |
| 2009-S Birthplace | 2,995,615 |
| 2009-S Formative Years | 2,995,615 |
| 2009-S Professional Life | 2,995,615 |
| 2009-S Presidency | 2,995,615 |
| 2010-S | 1,689,216 |
| 2011-S | 1,673,010 |
| 2012-S | 1,239,148 |
| 2013-S | 1,274,505 |
| 2014-S | 1,190,369 |
| 2015-S | 1,050,164 |
| 2016-S | 1,011,624 |
| 2017-S | 979,477 |
| 2018-S | 844,220 |
| 2019-S | 1,012,972 |
| 2019-W | 600,464 |
| 2019-W Reverse Proof | 412,508 |