The Lincoln Memorial Cent was introduced in 1959 as the successor of the Lincoln Wheat Cent. The reverse design was changed to mark the 150th anniversary of Abraham Lincoln's birth, which also coincided with the 50th anniversary of the Lincoln Cent. An image of the Lincoln Memorial replaced the prior wheat stalks design. The obverse design of the coin remained as the same bust of Lincoln which had been in use since 1909.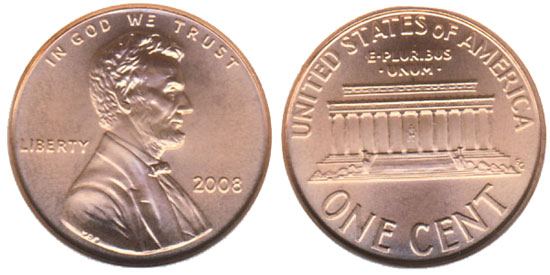 In late 1958, President Dwight D. Eisenhower authorized a change for the Lincoln Cent reverse design. The Assistant Engraver of the Mint Frank Gasparro created the new design featuring the Lincoln Memorial. The simplified version of the structure appears in isolation without the surrounding foliage, although sufficient detail is present to reveal the Lincoln Monument within the structure. The inscriptions UNITED STATES OF AMERICA and E PLURIBUS UNUM appear above with the denomination ONE CENT below.
The Lincoln Memorial Cent was produced in massive numbers from 1959 to 2008. Coins have been minted at the Philadelphia, Denver, and San Francisco Mint during the course of the series. The West Point Mint also produced small mintages of Lincoln Cents, although the coins intentionally did not include a mint mark in order to prevent hoarding.
After being in production for 50 years, the Memorial reverse was discontinued after 2008. For the following 2009 Lincoln Cents, a series of four different reverse designs were created to celebrate the life of Abraham Lincoln. Starting in 2010, another new reverse design would be created as a permanent replacement for the Memorial reverse.