The Lincoln Shield Cent was issued following the four different designs issued for the 2009 Lincoln Cents to celebrate the Bicentennial of Lincoln's birth. The same legislation which authorized the four rotating reverse designs also specified a fifth design to be issued in the following year, which would be emblematic of Lincoln's preservation of the United States of America as a single and united country.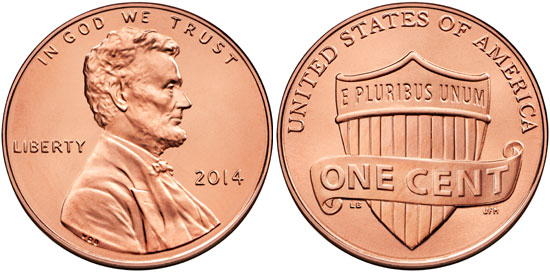 The design features the Union Shield, which dates back to the 1780's and was used widely during the Civil War. The shield includes thirteen vertical stripes joined by an upper horizontal bar. This represents the thirteen original states joined together in a single compact union in support of the federal government. The inscription UNITED STATES OF AMERICA appears above, with E PLURIBUS UNUM at the top of the shield and ONE CENT placed on a banner over the shield. The new reverse was designed by Lyndall Bass and engraved by Joseph Menna.
The obverse of the coin features the familiar portrait of Lincoln, with details of the original design restored to more closely resemble the original 1909 Lincoln Cent.
The new Union Shield Cent will become a familiar one for the public, as this design is intended to be the permanent replacement for the long running Lincoln Memorial Cent design. The first Shield Cents began appearing in circulation in mid-January 2010. The United States Mint held a official launch ceremony for the new coins on February 11, 2010, one day before the 201st anniversary of Lincoln's birth.