Guide to U.S. Lincoln Cents
The Lincoln Cent was introduced in 1909 to commemorate the 100th anniversary of birth of President Abraham Lincoln. The obverse design featuring a portrait of Abraham Lincoln has been used continuously through the current date, making this the longest-running United States coin series. The reverse design initially featured wheat stalks, but was modified at significant milestones to feature the Lincoln Memorial, themes from Lincoln's life, and finally the Union Shield. Lincoln Cents remain one of the most widely collected series, which is approachable yet challenging for beginning and advanced collectors alike.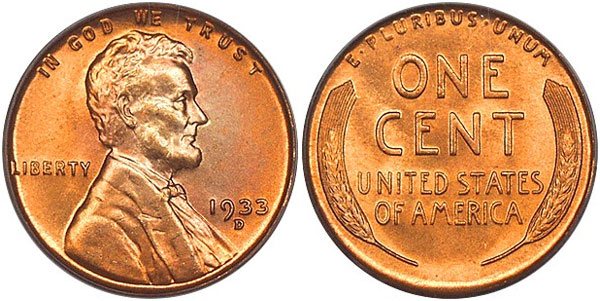 Obverse Design
Victor David Brenner was the designer of the original Lincoln Cent. The obverse of the coin features a bust of President Lincoln facing to the right. The image was based on a plaque previously prepared by Brenner in 1907. Notably, this represented the first time that the likeness of an actual person was depicted on a circulation coin series.
Reverse Design
The reverse design of the Lincoln Cent initially featured a pair of wheat stalks designed by Brenner. The coins of this time period are commonly referred to as Wheat Cents. This design remained in use for the first 50 years of the series. In 1959, the design was changed to a view of the Lincoln Memorial designed by Frank Gasparro. The Lincoln Memorial Cent was issued until 2008 before the next design change would take place.
For the 2009 Lincoln Cents, four different reverse designs were issued to commemorate the 200th anniversary of Lincoln's birth. Each design portrayed a different stage of Abraham Lincoln's life from his humble beginnings in Kentucky to his Presidency in Washington, D.C. Starting in 2010, another new reverse design was introduced featuring the Union Shield. The design is intended to be emblematic of Lincoln's preservation of the United States of America as a single and united country. The Union Shield Cent design will remain in use for the foreseeable future.
This site will provide you with an overview and history of Lincoln Cents, including the different reverse designs, key date coins and rarities, compositional changes of the coins over the years, and mintages for all coins of the series. The site can serve as a useful guide to one of the most popular United States coin series.