The 1955 Doubled Die Lincoln Cent (Buy on eBay) is an extremely famous and popular die variety. The obverse design displays a wide spread of the lettering, making the doubling very dramatic and visible without magnification.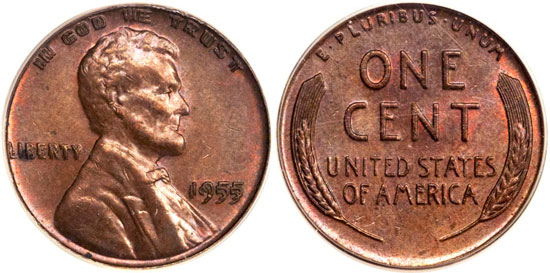 The variety was the result of improper preparation of the working dies at the Philadelphia Mint. In the typical process, the working hub is pressed against heated die blanks to place the incuse image onto the dies. To ensure all details are properly transferred, multiple impressions of the hub against the die are necessary. If the die rotates between impressions, some or all of the lettering and devices will appear doubled. All coins struck with the impacted die display the doubling.
An estimated 40,000 examples of the 1955 Doubled Die Lincoln Cent were produced. Of this amount, approximately 24,000 pieces were released into circulated since they had already been mixed with other coins. Examples soon turned up in Boston and the New York area and were immediately in high demand. This is still the case, and high grade examples with full red color bring strong prices at auction.
Counterfeits for this variety do exist, so professional authentication is recommended. A so-called "poor man's" doubled die also exists, which shows die deterioration doubling. This type of doubling is caused when a worn die causes distortion on the coins. The appearance is significantly less dramatic than a true doubled die, and these coins usually only sell for a few dollars.
Coin Specifications
Designer: Victor D. Brenner
Composition: 95% Copper, 5% Tin and Zinc
Weight: 3.11 grams
Diameter: 19 mm
Edge: Plain