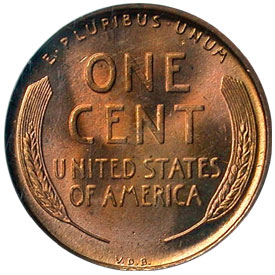 The Lincoln Cent represents the longest continuously running series within United States coinage. While the reverse design has seen some changes at different milestones, the obverse design featuring a bust of Abraham Lincoln by Victor D. Brenner has remained in place for more than 100 years. During this period, the mintages for individual issues have varied widely.
As might be expected, the lower mintage key date coins occurred within the early portion of the series when the coins carried the Wheat Ears reverse design. The primary key date is the 1909-S VDB Lincoln Cent, which carried a mintage of 484,000 pieces. Additional semi-key date issues that saw low mintages include the 1914-D Lincoln Cent at 1,193,000 pieces and the 1931-S Lincoln Cent at 866,000.
Mintage levels rose to new heights with the start of the Lincoln Memorial reverse design. During this period, production primarily took place at the Philadelphia and Denver Mint facilities, where mintages typically ran into the billions of pieces. In 1982, when the composition was changed from primarily copper to copper-coated zinc, the Philadelphia Mint struck more than 10 billion pieces.
In 2009, mintage levels fell to their lowest levels in decades due to the economic conditions and the fact that production was split across four different reverse designs. Levels have since rebounded, with the new Union Shield reverse design issues again ranging into the billions of pieces.
In 2019, the United States Mint included a 2019-W Lincoln Cent with an Uncirculated finish as a premium along with the 2019 Uncirculated Mint Set. The mintage of 346,117 is based on the last known sales for the set.
Unless noted, figures represent the final mintages published by the U.S. Mint. Where applicable, mintages include combined sales totals across all product offerings. For numbers marked with an asterisk (*), refer to the mintage notes following the tables.
Lincoln Wheat Ears Cent Mintages
| Date | Mintage |
| --- | --- |
| 1909 | 72,702,618 |
| 1909 VDB | 27,995,000 |
| 1909-S* | 1,825,000 |
| 1909-S VDB | 484,000 |
| 1910 | 146,801,218 |
| 1910-S | 6,045,000 |
| 1911 | 101,177,787 |
| 1911-D | 12,672,000 |
| 1911-S | 4,026,000 |
| 1912 | 68,153,060 |
| 1912-D | 10,411,000 |
| 1912-S | 4,431,000 |
| 1913 | 76,532,352 |
| 1913-D | 15,804,000 |
| 1913-S | 6,101,000 |
| 1914 | 75,238,432 |
| 1914-D | 1,193,000 |
| 1914-S | 4,137,000 |
| 1915 | 29,092,120 |
| 1915-D | 22,050,000 |
| 1915-S | 4,833,000 |
| 1916 | 131,833,677 |
| 1916-D | 35,956,000 |
| 1916-S | 22,510,000 |
| 1917* | 196,429,785 |
| 1917-D | 55,120,000 |
| 1917-S | 32,620,000 |
| 1918 | 288,104,634 |
| 1918-D | 47,830,000 |
| 1918-S | 34,680,000 |
| 1919 | 392,021,000 |
| 1919-D | 57,154,000 |
| 1919-S | 139,760,000 |
| 1920 | 310,165,000 |
Lincoln Wheat Ears Cent Mintages Continued
| Date | Mintage |
| --- | --- |
| 1920-D | 49,280,000 |
| 1920-S | 46,220,000 |
| 1921 | 39,157,000 |
| 1921-S | 15,274,000 |
| 1922-D* | 7,160,000 |
| 1923 | 74,723,000 |
| 1923-S | 8,700,000 |
| 1924 | 75,178,000 |
| 1924-D | 2,520,000 |
| 1924-S | 11,696,000 |
| 1925 | 139,949,000 |
| 1925-D | 22,580,000 |
| 1925-S | 26,380,000 |
| 1926 | 157,088,000 |
| 1926-D | 28,020,000 |
| 1926-S | 4,550,000 |
| 1927 | 144,440,000 |
| 1927-D | 27,170,000 |
| 1927-S | 14,276,000 |
| 1928 | 134,116,000 |
| 1928-D | 31,170,000 |
| 1928-S* | 17,266,000 |
| 1929 | 185,262,000 |
| 1929-D | 41,730,000 |
| 1929-S | 50,148,000 |
| 1930 | 157,415,000 |
| 1930-D | 40,100,000 |
| 1930-S | 24,286,000 |
| 1931 | 19,396,000 |
| 1931-D | 4,480,000 |
| 1931-S | 866,000 |
| 1932 | 9,062,000 |
| 1932-D | 10,500,000 |
| 1933 | 14,360,000 |
| 1933-D | 6,200,000 |
Lincoln Wheat Ears Cent Mintages Continued
Lincoln Wheat Ears Cent Mintages Continued
| Date | Mintage |
| --- | --- |
| 1946 | 991,655,000 |
| 1946-D | 315,690,000 |
| 1946-S* | 198,100,000 |
| 1947 | 190,555,000 |
| 1947-D | 194,750,000 |
| 1947-S | 99,000,000 |
| 1948 | 317,570,000 |
| 1948-D | 172,637,500 |
| 1948-S | 81,735,000 |
| 1949 | 217,775,000 |
| 1949-D | 153,132,500 |
| 1949-S | 64,290,000 |
| 1950 | 272,635,000 |
| 1950-D | 334,950,000 |
| 1950-S | 118,505,000 |
| 1951 | 284,576,000 |
| 1951-D | 625,355,000 |
| 1951-S | 136,010,000 |
| 1952 | 186,775,000 |
| 1952-D | 746,130,000 |
| 1952-S | 137,800,004 |
| 1953 | 256,755,000 |
| 1953-D | 700,515,000 |
| 1953-S | 181,835,000 |
| 1954 | 71,640,050 |
| 1954-D | 251,552,500 |
| 1954-S | 96,190,000 |
| 1955* | 330,958,200 |
| 1955-D | 563,257,500 |
| 1955-S | 44,610,000 |
| 1956 | 420,745,000 |
| 1956-D* | 1,098,201,100 |
| 1957 | 282,540,000 |
| 1957-D | 1,051,342,000 |
| 1958* | 252,525,000 |
| 1958-D | 800,953,300 |
Lincoln Memorial Cent Mintages
| Date | Mintage |
| --- | --- |
| 1959 | 609,715,000 |
| 1959-D | 1,279,760,000 |
| 1960* | 586,405,000 |
| 1960-D* | 1,580,884,000 |
| 1961 | 753,345,000 |
| 1961-D | 1,753,266,700 |
| 1962 | 606,045,000 |
| 1962-D | 1,793,148,140 |
| 1963 | 754,110,000 |
| 1963-D | 1,774,020,400 |
| 1964 | 2,648,575,000 |
| 1964-D | 3,799,071,500 |
| 1965 | 1,497,224,900 |
| 1966 | 2,188,147,783 |
| 1967 | 3,048,667,100 |
| 1968 | 1,707,880,970 |
| 1968-D | 2,886,269,600 |
| 1968-S | 258,270,001 |
| 1969 | 1,136,910,000 |
| 1969-D | 4,002,832,200 |
| 1969-S | 547,309,631 |
| 1970 | 1,898,315,000 |
| 1970-D | 2,891,438,900 |
Lincoln Memorial Cent Mintages Continued
| Date | Mintage |
| --- | --- |
| 1970-S | 693,192,814 |
| 1971 | 1,919,490,000 |
| 1971-D | 2,911,045,600 |
| 1971-S | 525,133,459 |
| 1972 | 2,933,255,000 |
| 1972-D | 2,665,071,400 |
| 1972-S | 376,939,108 |
| 1973 | 3,728,245,000 |
| 1973-D | 3,549,576,588 |
| 1973-S | 317,177,295 |
| 1974 | 4,232,140,523 |
| 1974-D | 4,235,098,000 |
| 1974-S | 409,426,660 |
| 1975 | 5,451,476,142 |
| 1975-D | 4,505,275,300 |
| 1976 | 4,674,292,426 |
| 1976-D | 4,221,592,455 |
| 1977 | 4,469,930,000 |
| 1977-D | 4,194,062,300 |
| 1978 | 5,558,605,000 |
| 1978-D | 4,280,233,400 |
| 1979 | 6,018,515,000 |
| 1979-D | 4,139,357,254 |
Lincoln Memorial Cent Mintages Continued
| Date | Mintage |
| --- | --- |
| 1980 | 7,414,705,000 |
| 1980-D | 5,140,098,660 |
| 1981 | 7,491,750,000 |
| 1981-D | 5,373,235,677 |
| 1982 | 10,712,525,000 |
| 1982-D | 6,012,979,368 |
| 1983 | 7,752,355,000 |
| 1983-D | 6,467,199,428 |
| 1984 | 8,151,079,000 |
| 1984-D | 5,569,238,906 |
| 1985 | 5,648,489,887 |
| 1985-D | 5,287,399,926 |
| 1986 | 4,491,395,493 |
| 1986-D | 4,442,866,698 |
| 1987 | 4,682,466,931 |
| 1987-D | 4,879,389,514 |
| 1988 | 6,092,810,000 |
| 1988-D | 5,253,740,443 |
| 1989 | 7,261,535,000 |
| 1989-D | 5,345,467,111 |
| 1990 | 6,851,765,000 |
| 1990-D | 4,922,894,533 |
| 1991 | 5,165,940,000 |
| 1991-D | 4,158,442,076 |
| 1992 | 4,648,905,000 |
| 1992-D | 4,448,673,300 |
| 1993 | 5,684,705,000 |
| 1993-D | 6,426,650,571 |
| 1994 | 6,500,850,000 |
| 1994-D | 7,131,765,000 |
Lincoln Memorial Cent Mintages Continued
| Date | Mintage |
| --- | --- |
| 1995 | 6,411,400,000 |
| 1995-D | 7,128,560,000 |
| 1996 | 6,612,465,000 |
| 1996-D | 6,510,795,000 |
| 1997 | 4,622,800,000 |
| 1997-D | 4,576,555,000 |
| 1998 | 5,032,155,000 |
| 1998-D | 5,225,353,500 |
| 1999 | 5,237,600,000 |
| 1999-D | 6,360,065,000 |
| 2000 | 5,503,200,000 |
| 2000-D | 8,774,220,000 |
| 2001 | 4,959,600,000 |
| 2001-D | 5,374,990,000 |
| 2002 | 3,260,800,000 |
| 2002-D | 4,028,055,000 |
| 2003 | 3,300,000,000 |
| 2003-D | 3,548,000,000 |
| 2004 | 3,379,600,000 |
| 2004-D | 3,456,400,000 |
| 2005 | 3,935,600,000 |
| 2005-D | 3,764,450,000 |
| 2006 | 4,290,000,000 |
| 2006-D | 3,944,000,000 |
| 2007 | 3,763,400,000 |
| 2007-D | 3,638,800,000 |
| 2008 | 2,596,000,000 |
| 2008-D | 2,849,600,000 |
2009 Lincoln Bicentennial Cent Mintages
Lincoln Union Shield Cent Mintages
| Date | Mintage |
| --- | --- |
| 2010 | 1,963,630,000 |
| 2010-D | 2,047,200,000 |
| 2011 | 2,402,400,000 |
| 2011-D | 2,536,140,000 |
| 2012 | 3,132,000,000 |
| 2012-D | 2,883,200,000 |
| 2013 | 3,750,400,000 |
| 2013-D | 3,319,600,000 |
| 2014 | 3,990,800,000 |
| 2014-D | 4,155,600,000 |
| 2015 | 4,691,300,000 |
| 2015-D | 4,674,000,000 |
| 2016 | 4,698,000,000 |
| 2016-D | 4,420,400,000 |
| 2017-P | 4,361,220,000 |
| 2017-D | 4,272,800,000 |
| 2018 | 4,066,800,000 |
| 2018-D | 3,736,400,000 |
| 2019 | 3,542,800,000 |
| 2019-D | 3,497,600,000 |
| 2019-W | 346,117 |
| 2020 | 3,925,820,000 |
| 2020-D | 3,982,800,000 |
| 2021 | 3,560,800,000 |
| 2021-D | 4,035,600,000 |
| 2022 | TBD |
| 2022-D | TBD |
| 2023 | TBD |
| 2023-D | TBD |
*Lincoln Wheat Ears Cent Mintage Notes:
1909-S: Mintage of 1909 S Over Horizontal S Lincoln Cent included in number shown
1917: Mintage of 1917 Double Die Obverse Lincoln Cent included in number shown
1922-D: Mintage includes a small number of 1922 "No D" Lincoln Cents that were made with extremely worn dies
1928-S: Mintage reflects the combined number of large and small mintmarks varieties
1936: Mintage of 1936 Double Die Obverse Lincoln Cent included in number shown
1941-S: Mintage reflects the combined number of large and small mintmarks varieties
1944-D: Mintage of 1944 D Over S Lincoln Cent included in number shown
1946-S: Mintage of 1946 S Over D Lincoln Cent included in number shown
*Lincoln Memorial Cent Mintage Notes: