The 1909-S VDB Lincoln Cent (Buy on eBay) is one of the most famous and widely known key date coins. The low mintage of 484,000 pieces and the circumstances of the coin's creation have provided an ideal combination of scarcity and intrigue.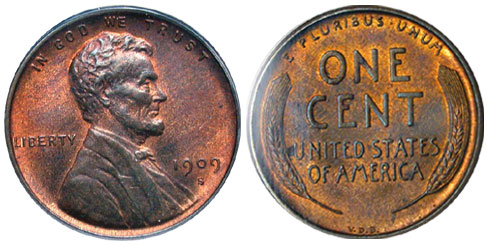 The Lincoln Cent was introduced in 1909 to celebrate the 100th anniversary of Lincoln's birth. Designed by Victor David Brenner, the obverse featured a bust of Lincoln while the reverse featured a pair of wheat stalks. The initial reverse design included the designer's initials "V.D.B." placed beneath the wheat stalks at the lower edge of the coin. Although the public reacted favorably to the new design, the initials were deemed too prominent.
After as few as five working days at the San Francisco Mint, production was halted and the initials were removed. The San Francisco Mint version with the initials ended up having a significantly lower mintage than the version without initials or either of the two Philadelphia Mint versions Because of the attention surrounding the removal of the initials and the early recognition of the low mintage, examples of the coin were quickly hoarded by the public.
The 1909-S V.D.B. Lincoln Cent has continued to captivate collectors across the generations and remains in high demand. Because many of the coins were saved during the era, examples are generally available in all grades. As might be expected, high grade examples of the coin can drive significant premiums.
Coin Specifications
Designer: Victor D. Brenner
Composition: 95% Copper, 5% Tin and Zinc
Weight: 3.11 grams
Diameter: 19 mm
Edge: Plain