To commemorate the 200th anniversary of the birth of Abraham Lincoln, four different reverse designs were used for the 2009 Lincoln Cent (Buy on eBay). Each design was intended to be representative of one of the stages of his life, from birth to presidency. The designs were released into circulation approximately every three months. The obverse design of the coin remained the same bust of Lincoln originally designed by Victor David Brenner.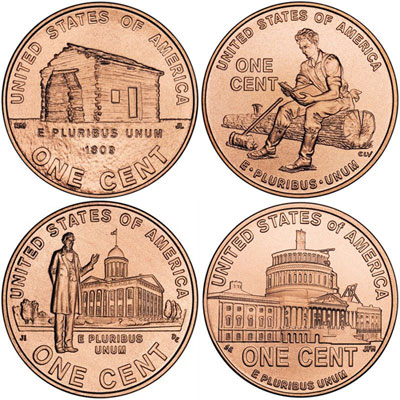 Legislation
Authorization for the new reverse designs for the Lincoln Cent was provided under the Presidential $1 Coin Act of 2005 (Public Law 109-145). The law authorized the Presidential Dollars series and also stipulated four rotating designs for the 2009 Lincoln Cent to celebrate the bicentennial and one final reverse design to be used going forward.
Design
The first 2009 Lincoln Cent design represents Lincoln's birthplace and early childhood in Kentucky, chronologically covering 1809 to 1816. The reverse depicts an image of a log cabin to represent Lincoln's humble upbringing. The date of his birth "1809" appears below the cabin. This reverse was designed by Richard Masters and sculpted by Jim Licaretz.
The second design represents Lincoln's formative years in Indiana, chronologically covering 1816 to 1830. The reverse depicts a young Abraham Lincoln taking a break from rail splitting to read a book. This reverse was designed and sculpted by Charles Vickers.
The third design represents Lincoln's professional life spent in Illinois from 1830 to 1861. Lincoln is depicted as a young professional standing before the Illinois State Capitol building. This reverse was designed by Joel Iskowitz and sculpted by Don Everhart.
The fourth and final design represents Lincoln's presidency in Washington, D.C. from 1861 to 1865. A view of the half completed Capitol Dome is depicted. This view is intended to symbolize a nation torn apart by Civil War and Lincoln's resolve in guiding the Nation through this period. The designer was Susan Gamble and the sculptor was Joseph Menna.
Demand
The 2009 Lincoln Cents proved extremely popular with the public. Each coin's release was accompanied by an official launch ceremony and roll exchange. These events became popular destinations for coin collectors and Lincoln enthusiasts. In addition to the increased attention generated by the new designs, the 2009 Lincoln Cent mintages came in at historically low levels. The decreased need for circulating coinage at the time and the fact that annual production was split across four different designs helped to create the lowest circulating coin mintages in decades for the denomination.