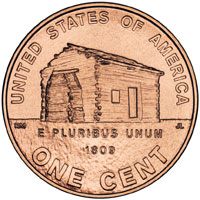 A combination of factors caused the 2009 Lincoln Cents to have unusually low mintages. During the year the coins were issued with four different reverse designs, with circulation coins struck at the Philadelphia and Denver Mints. Each individual issue had a mintage of less than 400 million. One coin had a mintage of only 129.6 million, representing the lowest production for a circulating one cent coin in more than five decades.
In 2009, coin production in general underwent a significant decline due to the impact of the recession.  The combination of a slow down in commerce and a glut of old coinage reentering the system from people cashing in old hoards of coins resulted in a reduced need for new coinage.  The fact that the mintage of the 2009 Lincoln Cent would be split amongst four different designs, also resulted in reduced mintage levels for each individual issue.
The 2009-P "Presidency" Lincoln Cent recorded the lowest mintage at only 129.6 million. The highest mintage coin was the 2009-P "Formative Years" Lincoln Cent with 376 million produced.
2009 Lincoln Cent Mintages
| | |
| --- | --- |
| 2009-P Lincoln Cent Birthplace | 284,400,000 |
| 2009-D Lincoln Cent Birthplace | 350,400,000 |
| 2009-P Lincoln Cent Formative Years | 376,000,000 |
| 2009-D Lincoln Cent Formative Years | 363,600,000 |
| 2009-P Lincoln Cent Professional Life | 316,000,000 |
| 2009-D Lincoln Cent Professional Life | 336,000,000 |
| 2009-P Lincoln Cent Presidency | 129,600,000 |
| 2009-D Lincoln Cent Presidency | 198,000,000 |