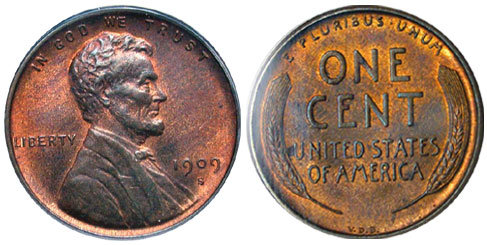 The 1909-S VDB Lincoln Cent is one of the most famous and widely known key date coins. The low mintage of 484,000 coins and the circumstances of the coin's creation add some intrigue and provide an interesting back story for the famed rarity.
When the Lincoln Cent was first released to the public in 1909, the designer's initials "V.D.B." for Victor David Brenner appeared on the reverse of the coin below the wheat stalks. The public reacted favorably to the new design for the coin, but many reacted unfavorably to the prominent placement of the designer's initials. Responding to the public's criticism, the United States Mint completely removed the initials from the reverse of the coin.
Since the switch was performed midstream, two versions of the 1909 Lincoln Cent were created, one with "V.D.B." and one without the initials. The coins were produced at the Philadelphia Mint and San Francisco Mint that year, yielding a total of four varieties. Because of the smaller number of coins produced by the San Francisco Mint and the early move to remove the initials, the 1909-S VDB Lincoln Cent had an extremely low mintage.
The 1909-S V.D.B. Lincoln Cent has continued to captivate collectors across the generations and remains in continual high demand. Because many of the coins were saved during the era, examples are generally available in all grades. As might be expected, high grade examples of the coin can drive significant premiums.