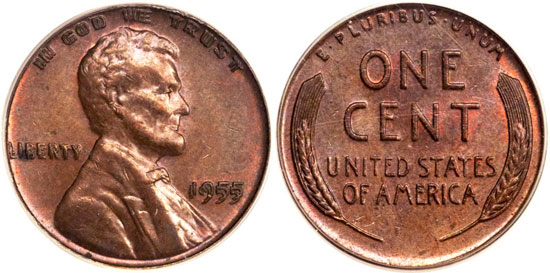 The 1955 Doubled Die Lincoln Cent is an extremely popular doubled die variety from the Lincoln Cent series. The obverse design displays a wide spread of the lettering, making the doubling very dramatic. The variety was the result of improper preparation of the working dies at the Philadelphia Mint, which caused one of the impressions to strike misaligned.
Approximately 40,000 cents were struck with the doubling. Mint employees decided to release about 24,000 pieces into circulation since they were already mixed with other coins. Examples turned up in the Boston and New York area and were immediately in demand. This is still the case, and high grade examples with full red color bring strong prices at auction.
Counterfeits for this variety do exist, so professional authentication is recommended.  A so-called "poor man's" doubled die also exists, which shows die deterioration doubling. This type of doubling is caused when a worn die causes distortion on the coins. The appearance is significantly less dramatic than a true double die and usually only sell for a few dollars.