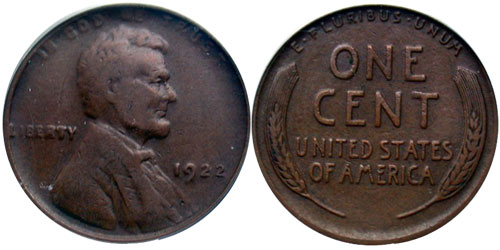 During 1922, the Lincoln Cent was only produced at the Denver Mint with a total of 7,160,000 coins produced during the months of January and February. At some point, a small number of this mintage was produced without a visible mint mark, giving rise to the variety known as the 1922 No D Lincoln Cent or 1922 Plain Lincoln Cent.
Lincoln Cents produced at the Denver Mint carry the "D" mint mark, while cents minted at Philadelphia do not carry a mint mark. When 1922 Lincoln Cents started appearing without a mint mark, a collectible oddity was created. The "No D" version of the coin is suspected to have been created as the result of extremely worn obverse dies where the mint mark had worn away. Others have suggested that one obverse die which did not include the "D" mint mark was inadvertently shipped to the Denver Mint.
Interestingly, for any other year the lack of a mint mark on Denver minted Lincoln Cents would have gone undetected. Anyone encountering these coins would have just assumed they were produced at the Philadelphia Mint and would not be able to determine otherwise. The variety is only observable because cents were not minted in Philadelphia during 1922.